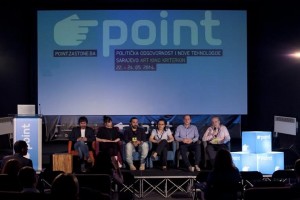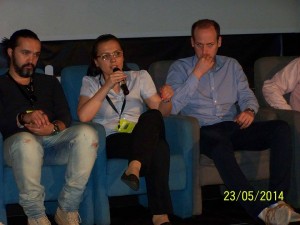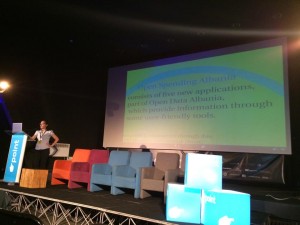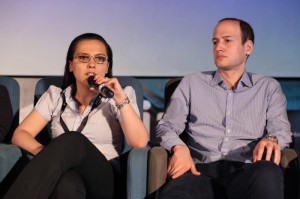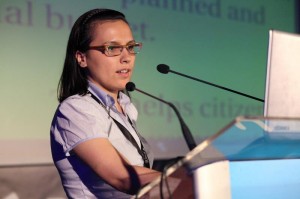 Political Accountability and New Technologies ( POINT 3.0 ) conference took place in Art Cinema Kriterion in Sarajevo from May 22nd to May 24th.
This year's program offered a variety of great speakers, panels, exhibitions, workshops and screenings.
Among other great speakers, there appeared Michael Slaby, the CTO of the Obama 2008 campaign; Chris Albon from Ushahidi; Sultan Al-Qassemi, one of the most distinguished bloggers and analysts on the Middle East also Ardian Haxha and Drinor Selmanaj from FLOSSK Kosovo in collaboration with Victor Nitu and Ioana Cristea from Ceata Foundation Romania with the workshop about Security and Privacy.
Several panels in the two days of the conference addressed interesting and burning issues, like challenges of open government, humor and satire as means of political activism, measuring truth in the eve of elections and political activism going digital.
Albanian Institute of Science was introduced , in the second day of the conference, with the project of Open Spending Albania/ Open Data Albania. Our representative Besjana Hysa spoke about Open spending Albania – five apps for treasury monitoring. First, money map provides information on the budgets in the past few years (planned and actual!). Bubble tree is an app that visualizes the budget and provides citizens with an overview of budget categories, a cool thing to do, being that budgets can be boring sometimes. Daily bread tells you how much money are you giving to which area through your taxes. Another part of Open spending Albania is Fund diversion. Great feature of this app is that it identifies most discriminated areas of the budget. Also, the most important thing was monitoring of state treasury spending, and although we had problems with transparency from the government, things are now much better.Thanks to several years of work and coordination among the civil society and the public administration in the framework of OGP, Open Data Albania managed to develop an application for monitoring the state treasury. The work for this result has started much earlier than the project itself.Finally, the Albanian state budget is open, and our application offers some information filters based on: how public administration spendsthe Money; where do the funds go; how much is paid for different services; how much Money specific companies receive from specific institutions over a certain period of time; how much Money was spent in a short period of time.
Treasure Monitoring marks the most decisive moment in the process for an Open Government.
Due to the tragic situation caused by unprecedented floods across the country, POINT 3.0 Conference dedicated part of its time to try and help people in need. U.G. "Why not" already established the "Flood Map" website throughout which citizens can report the problems incurred as a result of floods, publish locations help collection, the most important information to contact support services operating in BiH, but also lists of all the bank accounts opened for donation.
POINT 3.0 Conference devote the entire third day of the conference, which is scheduled for practical workshops, to developing new or improving existing platforms for disaster aid.
POINT conference was organized by CA Why not (Zašto ne) from BiH, in cooperation with Center for Research on Transparency and Accountability (CRTA) from Serbia, Metamorphosis from Macedonia, Mjaft from Albania, Center for Democratic Transition (CDT) from Montenegro and IPKO Foundation from Kosovo.
Partners and supporters of this year's conference were also National Endowment for Democracy, Balkan Trust for Democracy, Embassy of the United States in BiH, Heinrich Boell Foundation, Friedrich Ebert Stiftung, TechSoup, Emerging Democracies Institute, Analitika and Mediacentar.
http://ais.al/new/wp-content/uploads/10325510_780532318657519_4879991722102836526_n.jpg
258
960
Besi Hysa
http://ais.al/new/wp-content/uploads/aislogo1.png
Besi Hysa
2014-06-30 05:22:34
2015-08-03 12:54:50
AIS attended the conference: Political Accountability and New Technologies ( POINT 3.0 )