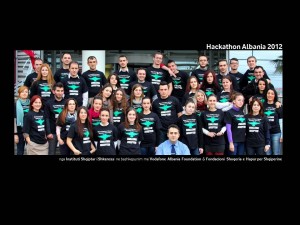 Instituti Shqiptar i Shkencave organizoi në datë 15 dhjetor Hackathon Albania 2012. Kjo maratonë e inteligjencës dhe kreativitetit zhvillohet për herë të dytë në vendin tonë si pjesë e projektit Open Data Albania.
Në këtë maratonë spikatën të rinj, kryesisht gjimnazist dhe student të cilët sollën aplikacione me të dhëna dhe dije të hapura (open data dhe open knowledge). Ndër njëzet e pesë konkurrent të ndarë në nëntë grupe, fitues u shpallën tre aplikacione tepër novatore të cilat shënojnë ide dhe modele që stimulojnë ndryshim në fushat ku ato zbatohen.
Fitues i Çmimit "Open Data Albania" u shpall aplikacioni me titull: Way to Independence / Rruga drejt pavarësisë. Grupi i punës që punoi për këtë aplikacion përbëhet nga katër djem të rinj të talentuar të moshave 15 deri 19 vjeç Aldo Leka, Admir Leka, Devis Cami, Elvis Papa. "Rruga drejt Pavarësisë" është një aplikacion qe ka për qellim ti mundësoje përdoruesit për te zbuluar dhe njohur me mire historinë e Shqipërisë dhe ngjarjet e rëndësishme për kombin që janë shënuar deri në datën e Shpalljes së Pavarësisë. Programi synon të prezantojë në një mënyrë shumë të lehtë historinë tek të rinj shqiptar apo shtetas të huaj. Për ketë arsye "Way to Independence / Rruga drejt Pavarësisë" do publikohet ne anglisht dhe shqip, dhe do përhapet ne version desktop-i, web, celular dhe ndoshta edhe në tableta.
Çmimi "World of Difference" ofruar nga Fondacioni Vodafone Albania, u fitua nga aplikacioni me titull Mirëqenia ne Mjediset e Punës. Ky aplikacion erdhi nga tre studente të profileve sociologji dhe psikologji Elona Ylli, Saniela Ruga, Drilona Mulaj. Nëpërmjet këtij aplikacioni ato sollën një model për vlerësimin e mirëqenies në mjediset e punës, dhe një platformë për përmirësimin e mëtejshëm në format pyetje-përgjigje dhe konsultime të drejtpërdrejta.
Çmimi "Inovacion" në këtë Maratonë u fitua nga një student i vitit të fundit për Stomatologji. Tauland Totaj prezantoi një punim ku nëpërmjet një programi titulluar Dental Anasthetic Calculator & Technical Maps (DAC&TM), stafeve mjekësore që aplikojnë anestezi lokale gjatë mjekimeve të pacientëve ju jepet mundësia të konsultohen në mënyrë matematikore me formula dhe manuale shkencore. Është një sistem i ideuar për t'ju ardhur në ndihmë përdoruesve në fushën e Stomatologjisë Klinike si dhe mund të gjejë përdorim dhe në fushën akademike. Në këtë sistem gjendet një mjedis i përshtatshëm për të realizuar përpunimin e shumë informacioneve njëkohësisht pa qenë e nevojshme të hapen shumë libra dhe të bëhen llogaritje matematikore, duke shkurtuar kohë dhe duke ofruar mundësi zgjedhjeje.
Në Hackathon Albania 2012, si festë e inteligjencës dhe kreativitetit spikatën dhe shumë aplikime të tjera ku konkurrentët sollën modele inovative për zbatim konkret në fusha të ndryshme si kontabilitet, gjeo-mjedis, edukim për grupe me aftësi të kufizuara, open data census etj.
Hackathon Albania tashmë është një event i përvitshëm që ju jep mundësi të rinjve me ide, njohuri dhe punë të spikatur të promovohen duke shënuar njëkohësisht edhe një kontribut për shoqërinë dhe njohuritë në ambjentin ku jetojmë. Ky aktivitet zhvillohet nga Instituti Shqiptar i Shkencave (AIS) në kuadër të Projektit Open Data Albania me donator Open Society Foundations Information Program, Open Society Foundation Albania dhe ShqiperiaCom Shpk. Hackathon Albania 2012 këtë vit pati mbështetjen dhe bashkëpunimin edhe të Fondacionit Vodafone Albania.
Ju mirëpresim çdo fund viti në Maratonën Shqiptare të Inteligjencës dhe Kreativitetit.
https://ais.al/new/wp-content/uploads/hackathon-2012-300x2251.jpg
225
300
aranita
http://ais.al/new/wp-content/uploads/aislogo1.png
aranita
2012-12-16 18:30:23
2015-08-04 13:43:49
Fitues në Hackathon Albania 2012 - Maratona Shqiptare e Inteligjencës dhe Kreativitetit