Risk Assessment in Tenders/Municipalities, whose 30% of the contracted value goes to one single company by direct negotiations
RED FLAGS – Local Government Units of Albania are ranked on the top when it comes to abusive tenders. As history shows, small and average-value tenders organized by them tend to usually go to family relatives or friends of those working for these institutions, while the large value tenders go to the pockets of construction oligarchs, who own companies providing cleaning services, development of green spaces, IT maintenance, and road reconstruction.
Direct Negotiation refers to Public Contracts (supplied by public money) exposed to a high risk of abuse and embezzlement. The Negotiation Procedure is a procedure, where the contracting authority selected the economic operators itself and negotiates the contract terms with one or several of them. This is translated simply into "Cash" agreements, using Albanian taxpayers' money for favorite clients. All the municipalities in the country have a favorite client each, who is awarded 30% of the municipality contracts through Direct Negotiation.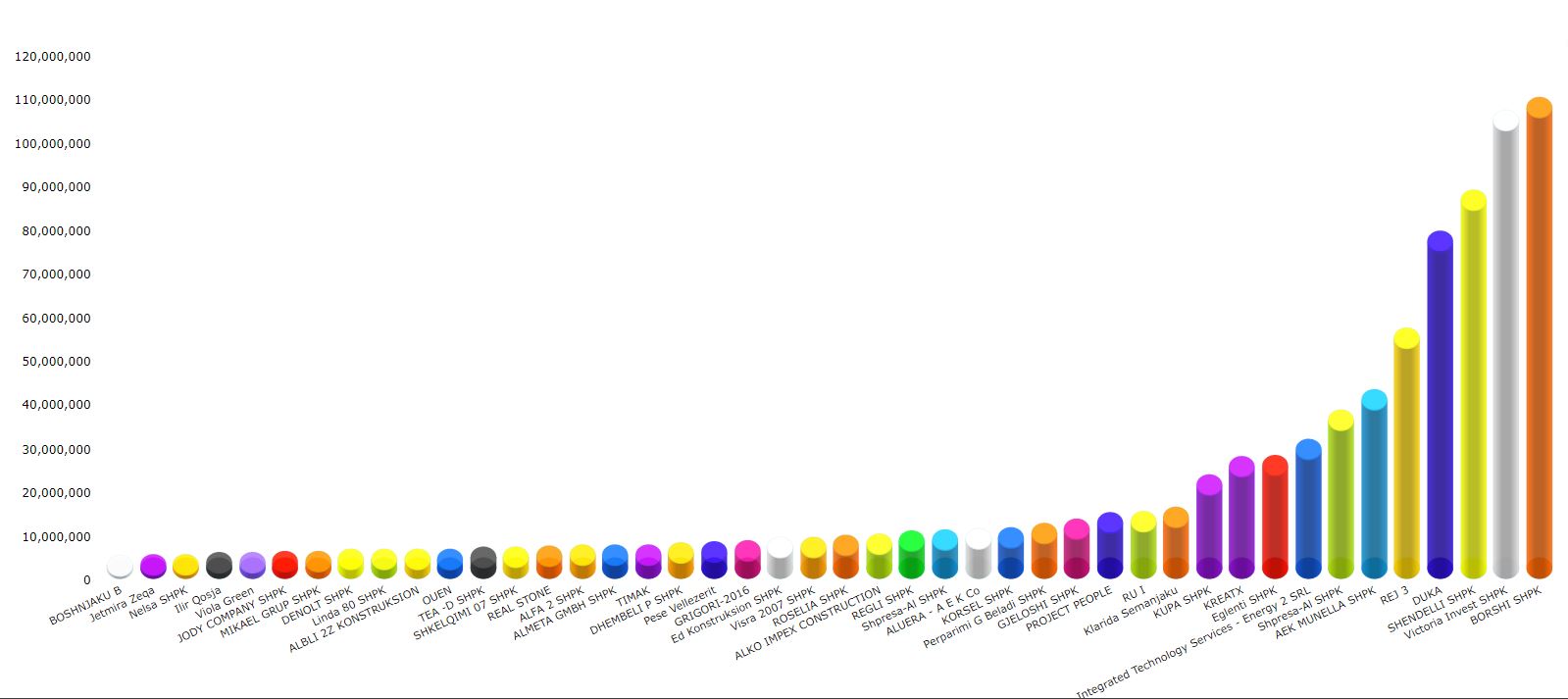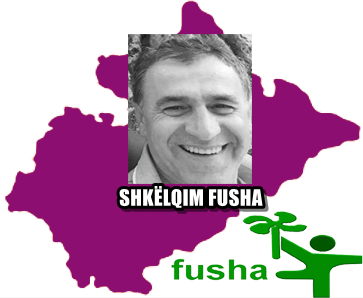 TIRANA MUNICIPALITY
Negotiation procedure
Who else, but FUSHA SHPK. The top company in Tirana, most favorite Mayor Veliaj's company, when it comes to towers, roads and everything. He is awarded 12 billion Albanian lekë-worth (VAT excl.) tenders by the negotiation procedure. Shkëlqim, the oligarch, has received more than 3.3 BILLION Albanian lekë (VAT excl.) for 3 tenders only.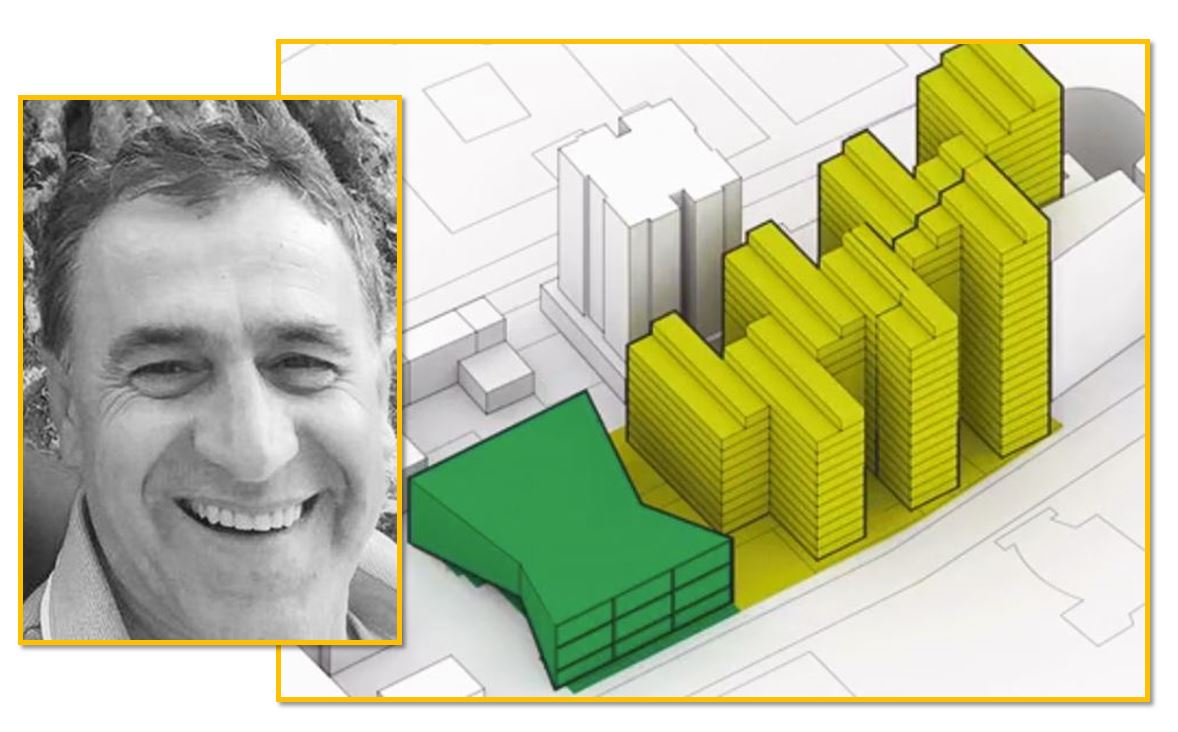 Negotiation without Notice
The only company priviledged by this procedure, which goes beyond 2.3 billion Albanian lekë (VAT excl.) is certainly Fiqiri Allmuça's PASTRIME SILVIO, WITH ONLY 2 TENDERS FROM Tirana Municiaplity for purchase of hygiene sanitizers and dezinfectants woth 500 MILLION Albanian lekë (VAT incl.), both with RED FLAGS.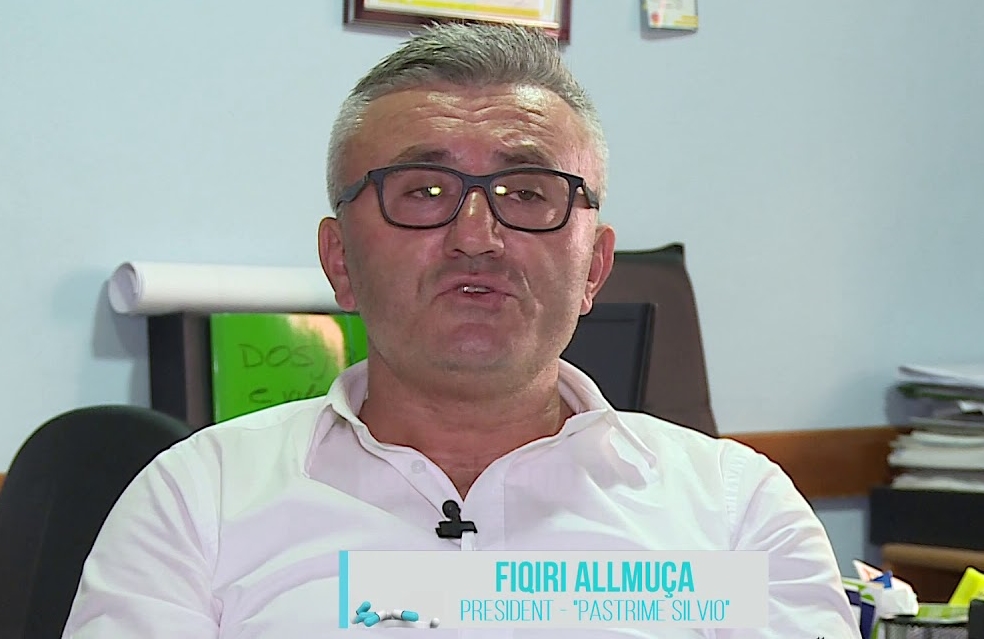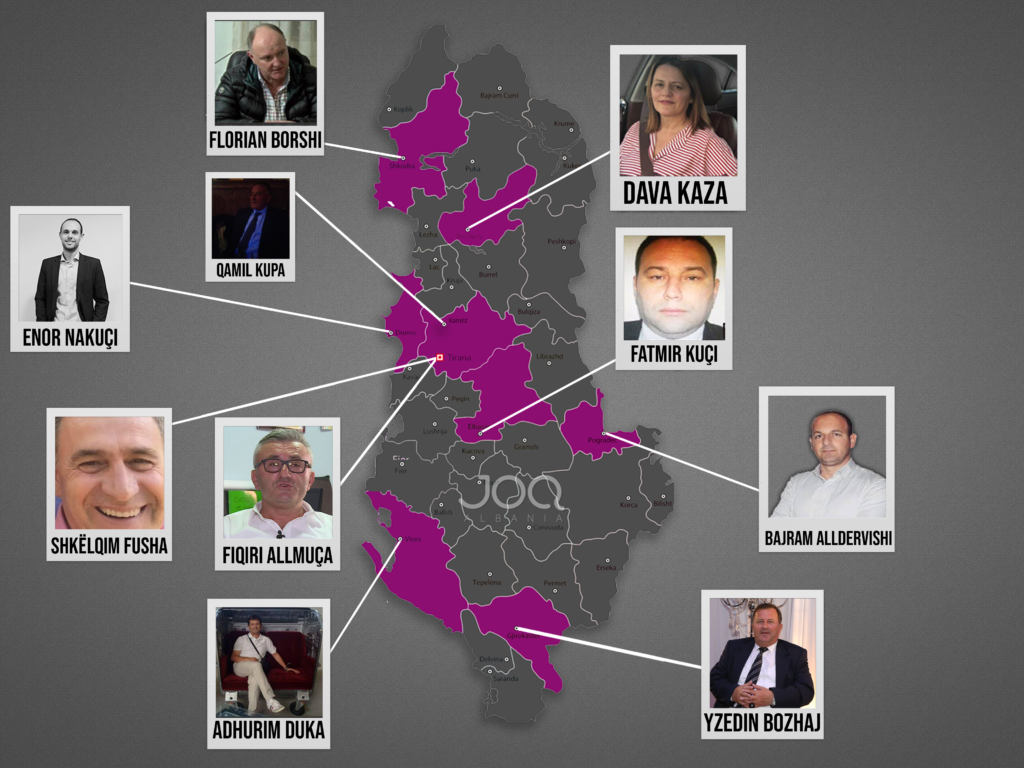 CITIES RANKED BY VALUE OF NEGOTIATED TENDERS
FLORIAN BORSHI (BORSHI SHPK)                    – More than 1 billion ALL (VAT excl.), 56% of tenders of SHKODRA Municipality
FATMIR KUCI (SHENDELLI SHPK)             – About 1 billion ALL, 52% of tenders of ELBASAN Municipality
YZEDIN BOZHAJ (SHENDELLI SHPK)             – 845 million ALL (VAT excl.), 94% of tenders of GJIROKASTRA Municipality
ADHURIM DUKA, VEIS DUKA (DUKA)             – 752 million ALL (VAT excl.), 79% of the tenders of VLORA Municipality
LUAN KAPRI, BAJRAM ALLDERVISHI (REI 3) – 530 million ALL (VAT excl.), 80% of the tenders of POGRADEC Municipality
DAVA KAZA, ZEF KAZA (AEK MUNELLA SHPK) – 387 million ALL (VAT excl.), 97% of the tenders of MIRDITA Municipality
LEDI KOÇI, ENOR NAKUÇI, LINA SOKOLI (KREATX)- 234 million ALL (VAT excl.), 84% of the tenders of DURRËS Municipality
SHKËLQIM KUPA, QAMIL KUPA (KUPA SHPK) – 193 million ALL (VAT excl.), 33% of the tenders of KAMËZ Municipality
KLAJDI PALOKA (KLAJDI CONSTRUCTION) – 124 million ALL (VAT excl.), 35% of the tenders of LEZHA Municipality
KLARIDA SEMANJAKU (NATURAL PERSON) – 118 million ALL, 44% of the tenders of FIER Municipality
ASLLAN RUÇI (RUÇI)             – 111 million ALL (VAT excl.), 70% of the tenders of KLOS Municipality
ARBEN GOLEMI (PROJECT&PEOPLE) – 105 million ALL (VAT excl.), 33% of the tenders of BELSH Municipality
NJAZI PRENÇI (REGLI SHPK)                                – 64 million ALL (VAT excl.), 45% of the tenders of BULQIZA Municipality
ARBËR ABAZI (ALKO IMPEX CONSTRUCTION) – 57 million ALL (VAT excl.), 72% of the tenders of DEVOLL Municipality
IRENA DERVISHI, GËZIM DERVISHI (ALFA 2 SHPK)- 33 million ALL (VAT excl.), 41% of the tenders of BERAT Municipality
MARSEL SHEGA, FATOS JAUPI DUKA,
SHERIF KAPLLANI (VIOLA GREEN)             – 14 million ALL (VAT excl.), 73% of the tenders of PRRENJAS Municipality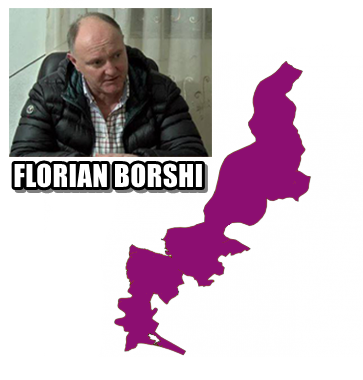 SHKODRA MUNICIPALITY
FLORIAN BORSHI (BORSHI SHPK) – MORE THAN 1 BILLION ALL, VAT EXCL., 56% OF THE TENDERS OF SHKODRA MUNICIPALITY
Florian Borshi is the owner of Borshi shpk, a company that has prevailed for years in the northern city of Shkodra. Since 2006, he has received big amounts of cash from the mullti-billion tenders for clearning through direct negotiationa, in the amount of more than 1 BILLIOL ALL, VAT excluded, for 7 such tenders.

Borshi, among the 7 in-cash tenders awarded by Shkodra Municipality, obtained a tender worth 236 million ALL (excl. VAT) through direct negotiation, in blunt violation due to lack of competition and bids.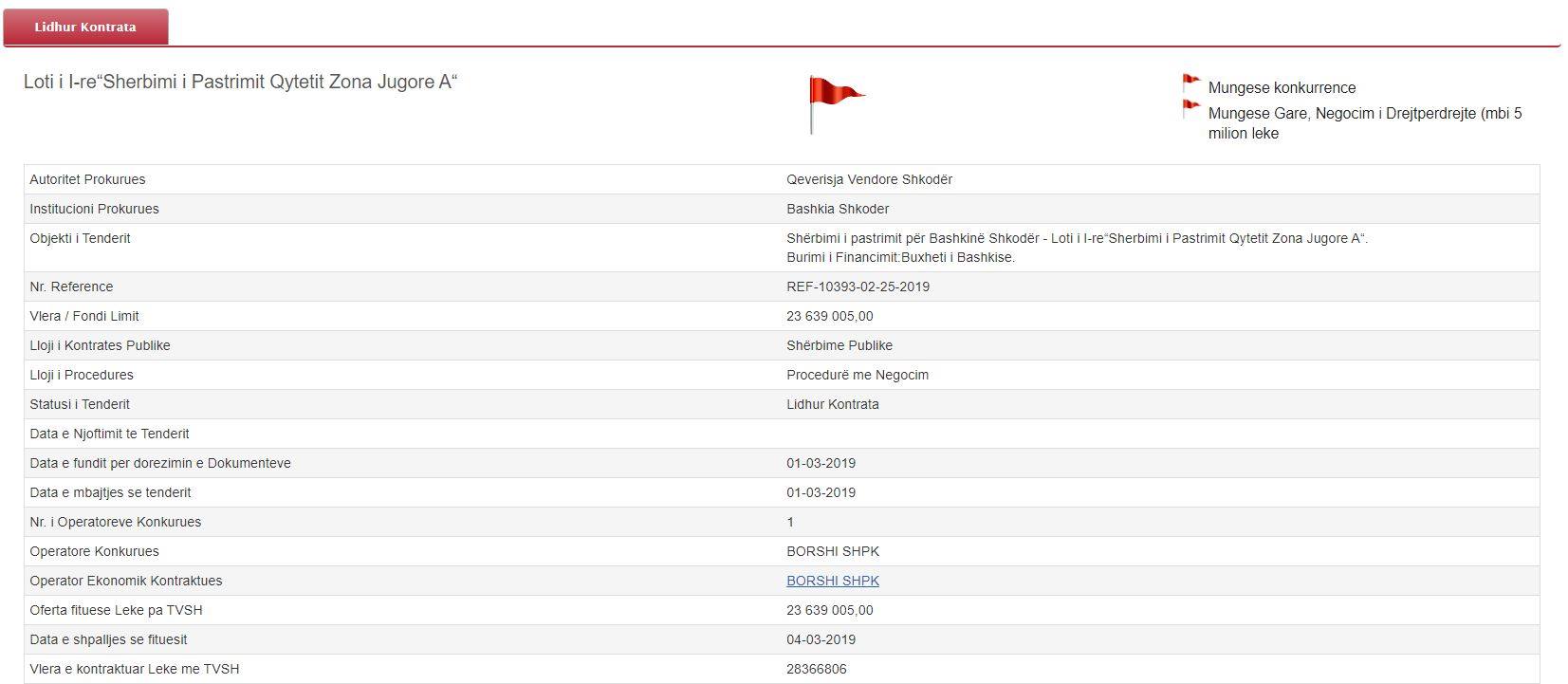 During the period 2015-2018, Florian Borshi with his company were awarded 3.6 billion ALL (excl. VAT) from the State budget, and over 1.3 billion ALL (excl. VAT) in the year 2019-2020 only.
At the time when tender deals were new entries in the political game and media refrained from disclosing information how taxpayers money was given to government clients, it was the Shkodra citizens themselves who exposed Borshi. "Well, well, Florian Borshi is the name of the person who won the cleaning tender for Shkodra. It is the second or third time that he 'wins' the tender. Only with the money he is supposed to clean around the garbage bins, he recently bought a JEEP, limited version, brand-new, black, 0 km. Let's not speak about the other partners like Xh.Sh. (Municipal Council member) and G.K. – Shkodra citizens wrote about their multibillionaire compatriot in a report which stated that although Shkodra launched tenders to clean the city with citizens' money, it turned out to be the worst-cleaned city".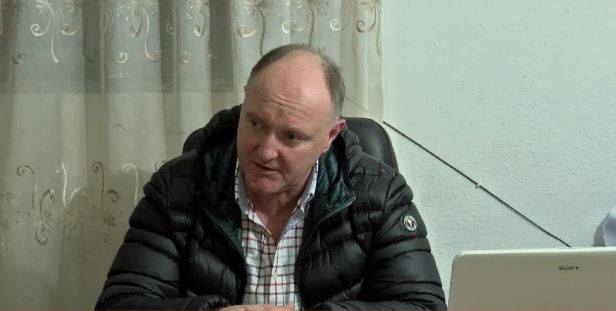 FLORIAN BORSHI (BORSHI SHPK)
The right wing holds power in Shkodra and Borshi continued his 'rule' peacefully, until he felt his grip on power slipping away when the Arbër Abazan – the nephew of the Socialist Party MP Sadri Abazaj – with his company ALKO IMPEX  CONSTRUCTION started snatching the tenders off his hands; the tenders that made him well-off.
The right-wing Mayor Voltana Ademi 'betrayed' him when she denied a tender to the BOSS's cleaning company to give it to the SP friends, specifically to Arbër Abazi, a 'gift' that spurred much controversy… However, Florian Borshi did not idle around, but he criminally sued Voltana to regain his BILLIONS and succeeded: now, BORSHI SHPK RULES SHKODRA with the illegal tenders.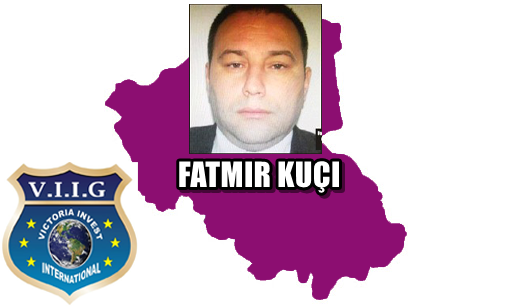 ELBASAN MUNICIPALITY
FATMIR KUÇI (VICTORIA INVEST SHPK) – AROUND 1 BILLION ALL (excl. VAT),
52% OF TENDERS AWARDED BY ELBASAN MUNICIPALITY
"VICTORIA INVEST" OF FATMIR KUÇI is one of the companies that benefited the highest chunks of Albanian money – both from the central and local government – to clean Elbasan city. Rumors triggered suspicions that Lulzim Basha is behind this company because not only this company has his daughter's name, but there are also other facts that are analyzed below.
At the national level, 13 tenders by Direct Negotiation from Elbasan Municipality, 10 of which are REDFLAGS for lack of competition and bids, VICTORIA INVEST benefited over 1 billion ALL (excl. VAT)!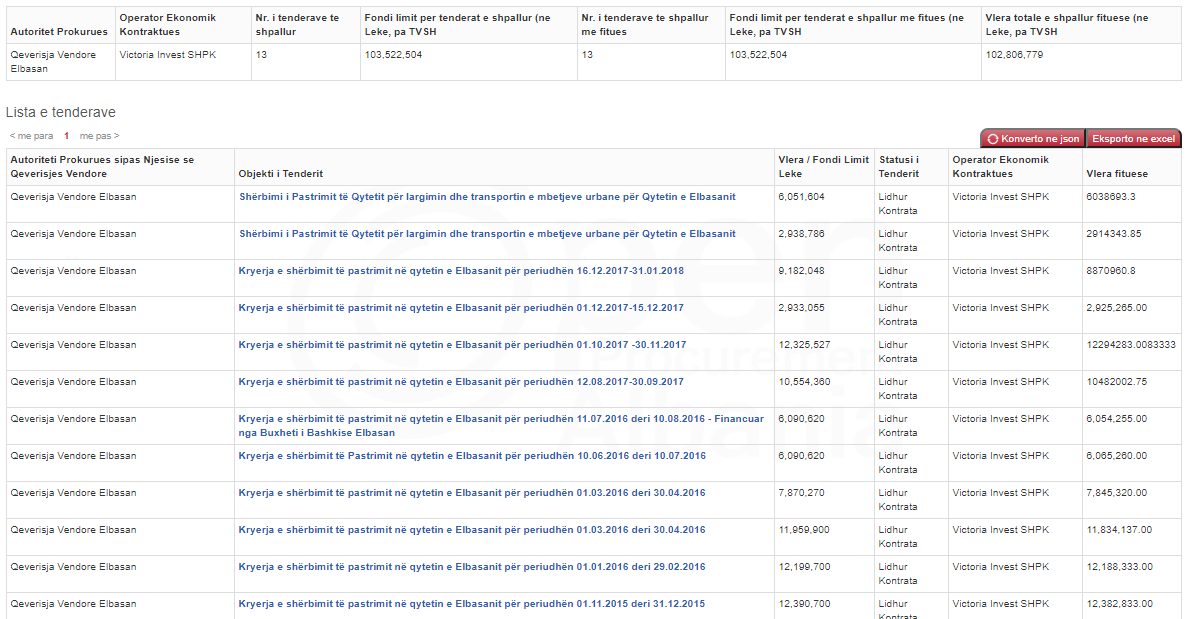 As for deposits from the Treasury, it benefited FRIGHTENING AMOUNTS over 3 years (2015-2018): over 15 BILLION ALL (excl. VAT). And over 4.4 BILLION ALL (excl. VAT) in 2019-2020!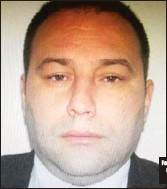 FATMIR KUÇI (VICTORIA INVEST)
Ties to Basha, who is Fatmir Kuçi?
It turns out that the Mercedes-Benz plated AA111EN used by Basha was purchased by Victoria Invest and precisely on this car, the DP Leader stopped to meet the Astir protesters [Astir: quarter being demolished to make room for a new road]. Basha enjoyed the strong support of Kuçi in the 2009 elections because the latter supported him financially to equalize the number of 6 MPs in Elbasan, during the time that the current DP Leader was the DP election coordinator. But, now it seems that Kuçi has turned his attention to the SP and looks to be beyond any saturation point in tenders by ripping off both right and left-wingers.
Despite a prominent name to the Albanian justice, nothing stopped Kuçi to obtain tenders in blunt violation… In 2014, the businessman Fatmir Koçi was criminally prosecuted on bail for "violation of navigation rules", but managed to wrap it up with a fine. He caused the death of a Russian tourist, Denis Kaiumov at Livadh in 2016 when he runs over him with a speedboat and cut off his limbs with the propeller. He was handcuffed for this incident, but managed to get out not too late because he claimed to have heart problems.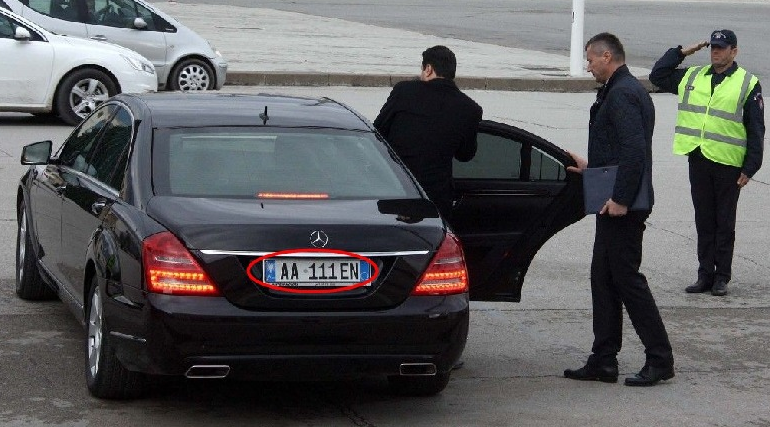 Billions flowing…
This company has a long and much controversial history of gaining money. The third segment 0.74 km of the Big Ring was won precisely by "Victoria Invest International & Viktoria Invest" at a value of 1.17 BILLION ALL (excl. VAT). Another 15 MILLION EUR without competition was awarded by the government to Lulzim Basha's Victoria in a consortium with an Italian company – for the rehabilitation of Porto Romano.
The name Fatmir Kuçi comes out in another suspicious connection to the company "Victoria Marine LTD" Disclosure of "Panama Papers" documents showed that this company is registered in Malta, fiscal heaven.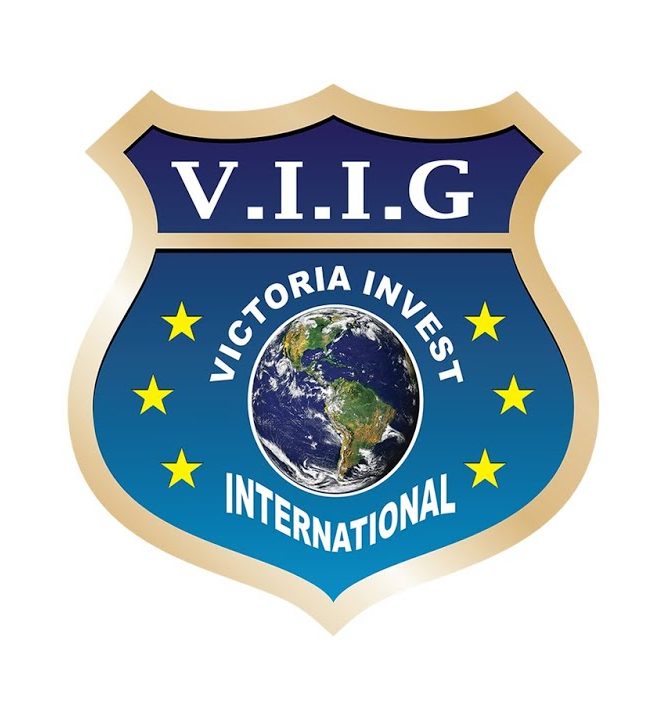 Manipulations with tenders / The ugly scheme to benefit public money
There is no start or end to the information about VICTORIA INVEST, not only for the political ties but also for the scandalous ties in public procurements. The company of the godfather of Basha's daughter was imposed a "seizure order" several times, because of disputes with other companies. Let us mention here the request for an administrative investigation by Kamza Municipality, which claimed that this company had manipulated the documentation submitted to participate in a tender – so that it would be eligible. "Victoria Invest" was disqualified for one year from participation in concessions and PPP schemes (3 August 2018 – 3 August 2019).
2 CONCESSIONS WITH BLOOD TIES
This company owns 2 CONCESSIONS, Victoria Hydroenergy with administrator Endri Kuçi for the construction of the HPP Lunik 1 and Lunik 2 in Elbasan, as well as FINSEC PORT for the construction of the yacht port at Turra Castle, Synej commune, Kavaja (this concession also has a 35-year validity and provides for the construction of a yacht port with at least 800 anchoring posts, 150 apartments and one hotel). Victoria Invest is owned by the company VICTORIA INVEST INTERNATIONAL of Valbona Kuçi, mother of Endrit Kuçi, family members of Fatmir Kuçi. The address of this branch/affiliate is the same as that of "Victoria Invest", i.e. same building, floor, street and quarter in Elbasan.
GJIROKASTRA MUNICIPALITY
YZEDIN BOZHAJ (SHËNDELLI SHPK) – 845 MILLION ALL (excl. VAT),
94% OF TENDERS OF GJIROKASTRA MUNICIPALITY
"SHËNDELLI SHPK" of Yzedin Bozhaj is the company that wreaked havoc in tenders by giving around cash in Gjirokastra, for 2 tenders with Direct Negotiation on engineering works to prevent hill-landslide in the area. Both tenders amounted to the CRAZY TOTAL OF 845 MILLION ALL (excl. VAT), one of which in blunt absence of competition, bids, by direct negotiation.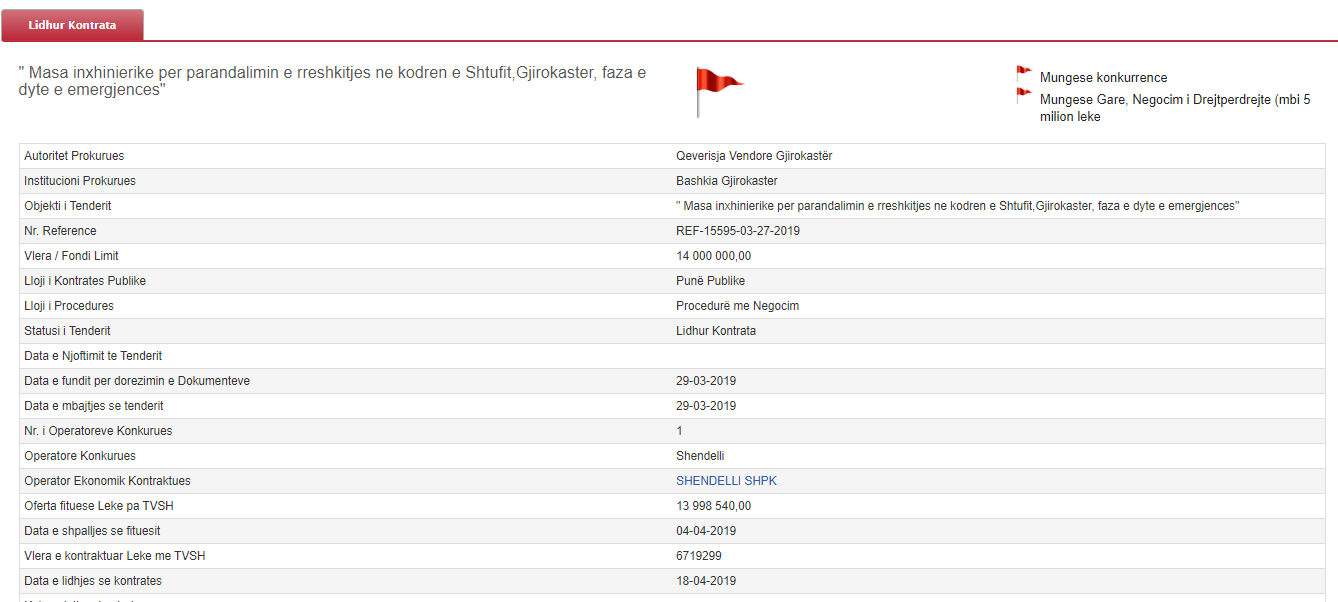 Besides the fact that Yzedini's company gets millions for landslide prevention – and in most cases, these tenders are awarded through inexistent procurement – it does not lag behind even in the BILLIONS obtained over the years from the Treasury. Hold your breath! In just 3 years (2015-2018), Shëndelli received over 8 BILLION ALL (excl. VAT) and over 3.6 BILLION ALL (excl. VAT) in only one year (period 2019-2020).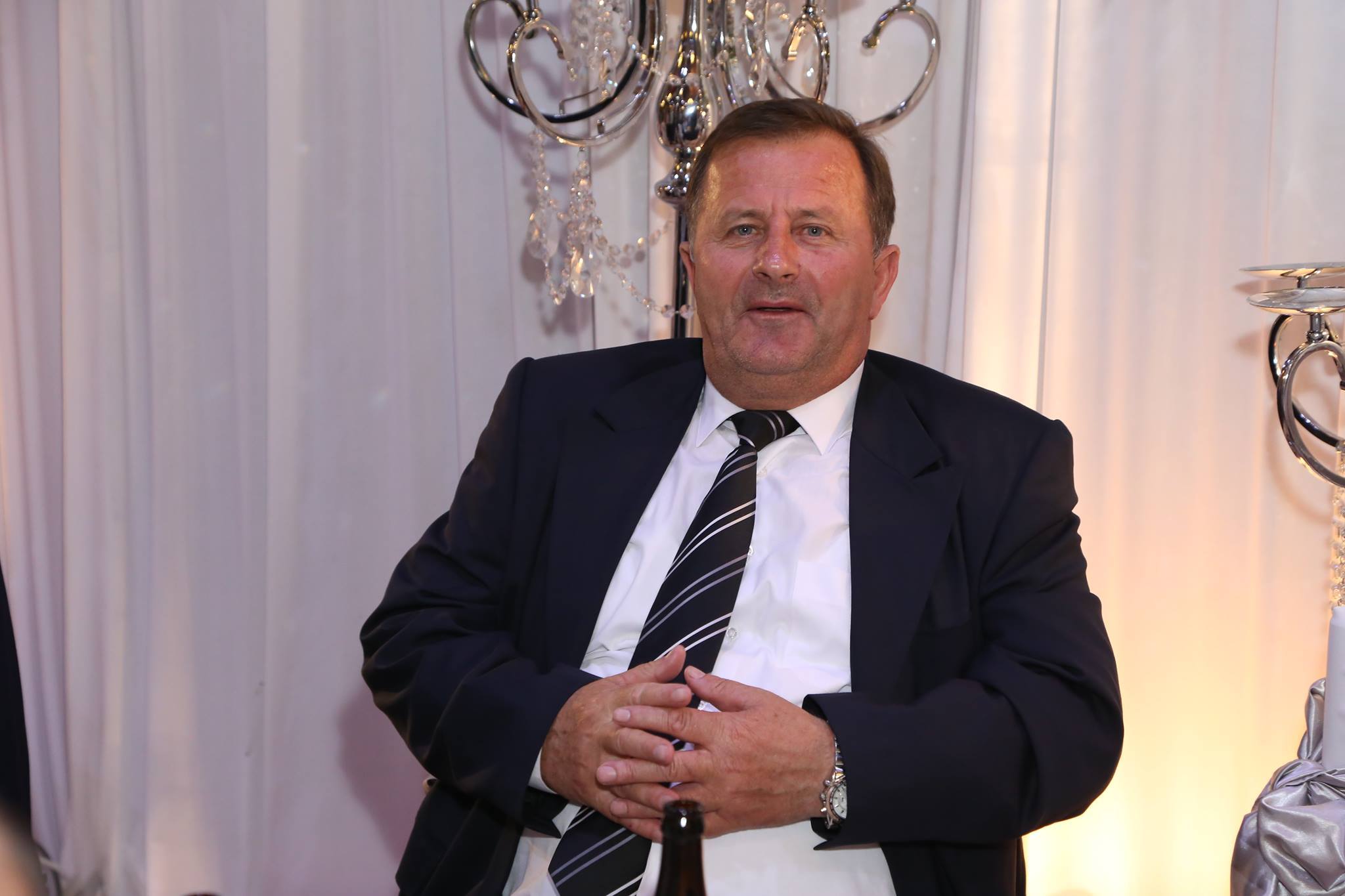 YZEDIN BOZHAJ (SHËNDELLI SHPK)
SHËNDELLI does not stop surprising, because contracts awarded to it by the Renaissance (SP) are endless, either alone or in collaboration with other public-money devouring oligarchs with political ties… At the national level, Bozhaj and his company received 8 BILLION ALL (excl. VAT) in 73 tenders. The most frightening tender in collaboration with GPG company of the oligarch Paqsor Buzi amounts to the VERTIGINOUS 6.5 BILLION ALL (excl. VAT).

VLORA MUNICIPALITY
ADHURIM DUKA, VEIS DUKA (DUKA) – 752 MILLION ALL (excl. VAT),
79% OF TENDERS OF VLORA MUNICIPALITY
"DUKA" with a crown of Vlora! The company of Adhurim and Veis Duka is ranked 4th at the local level among the companies that were awarded illegal tenders by Direct Negotiation. You better sit, or you might get a surge in blood pressure because we are going to analyze in detail the fat figures received by Adhurimi's "DUKA"… There are ONLY 2 tenders that DUKA won for the cleaning of Vlora, both in cash! Not crumbs, but the PULPY FIGURE OF 752 MILLION ALL (excl. VAT). What is striking is the fact that both tenders are red flags for lack of competition and bids, or simply put, DUKA managed to get the pulpy figures by a finger snap.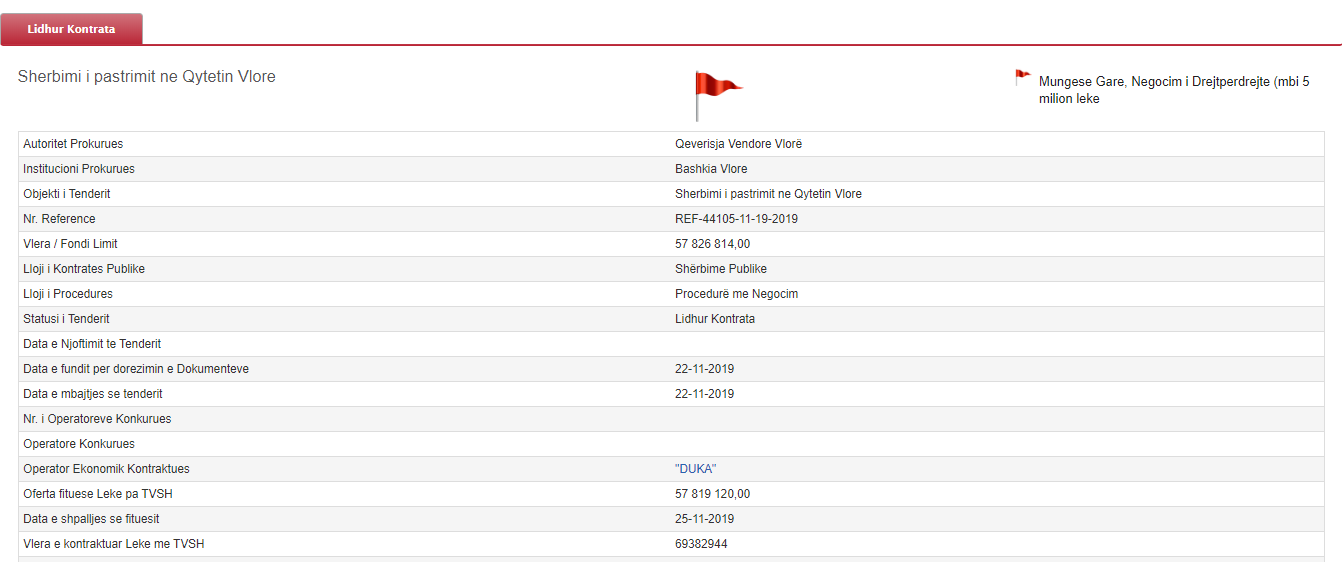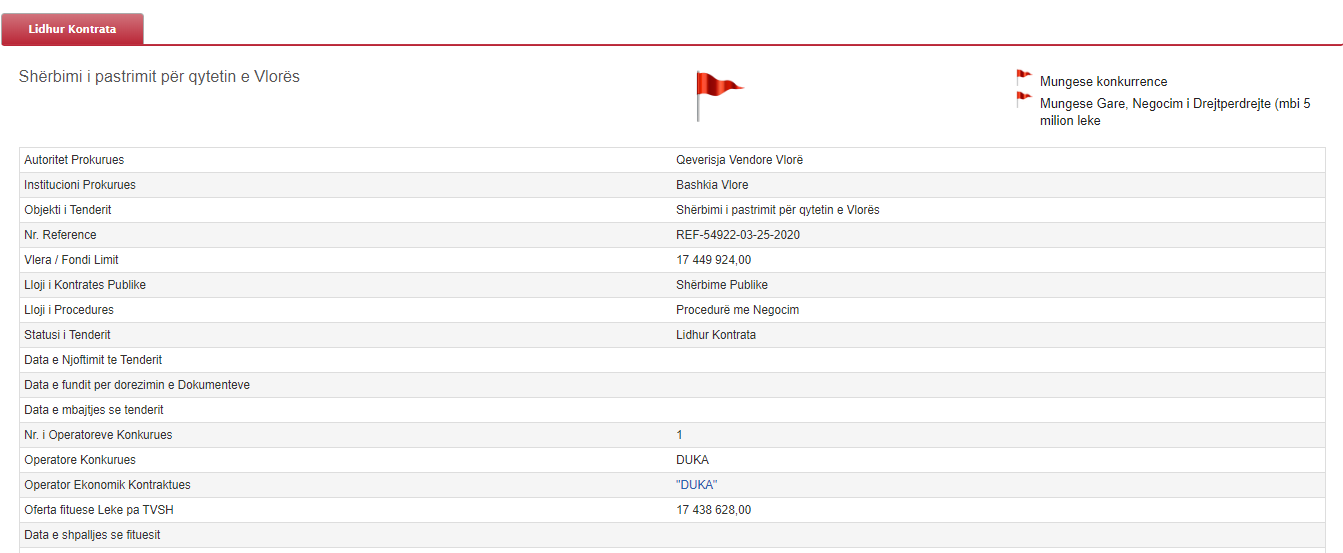 From budget institutions, DUKA benefited a TREASURE full of pearly transactions, literally! 7.7 BILLION ALL (excl. VAT) in 3 years (2015-2018), and 3.7 BILLION ALL (excl. VAT) in only one year (2019-2020).

Vlora's Adhurim who inherited the company of his father Veisi did not limit his range to the Municipality only; he got a lot of tenders in the Health sector too because it is the cherry on the cake for oligarchs, a gold mine. So, he got OVER 48 MILLION ALL (excl. VAT) from Vlora Psychiatric Hospital, all the tenders with the scope "Elimination of Urban Waste".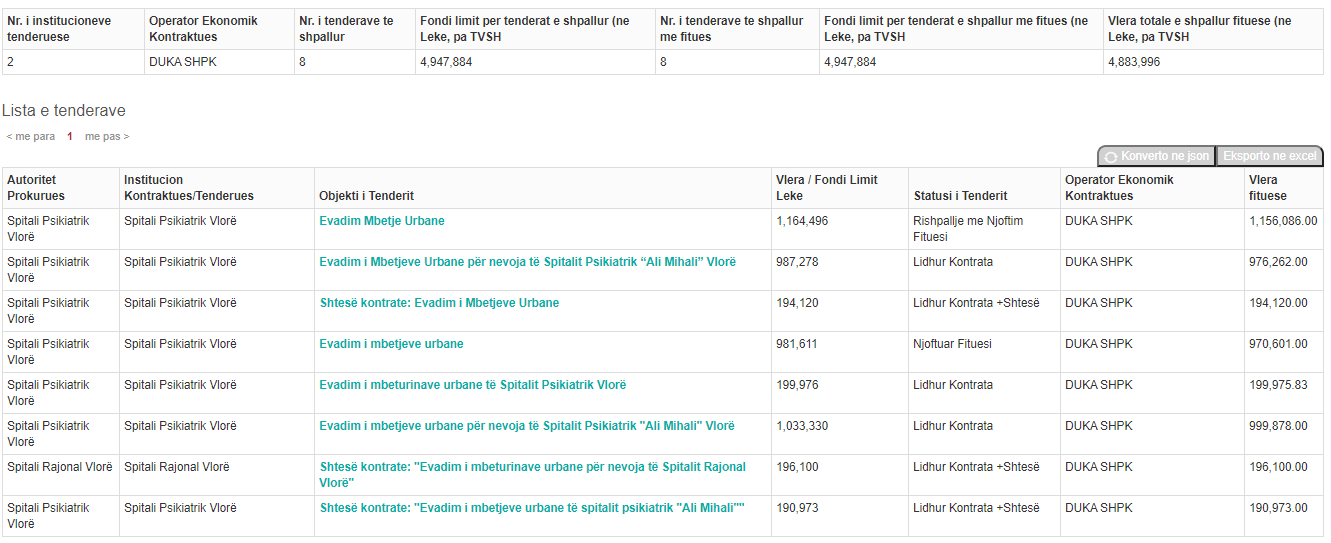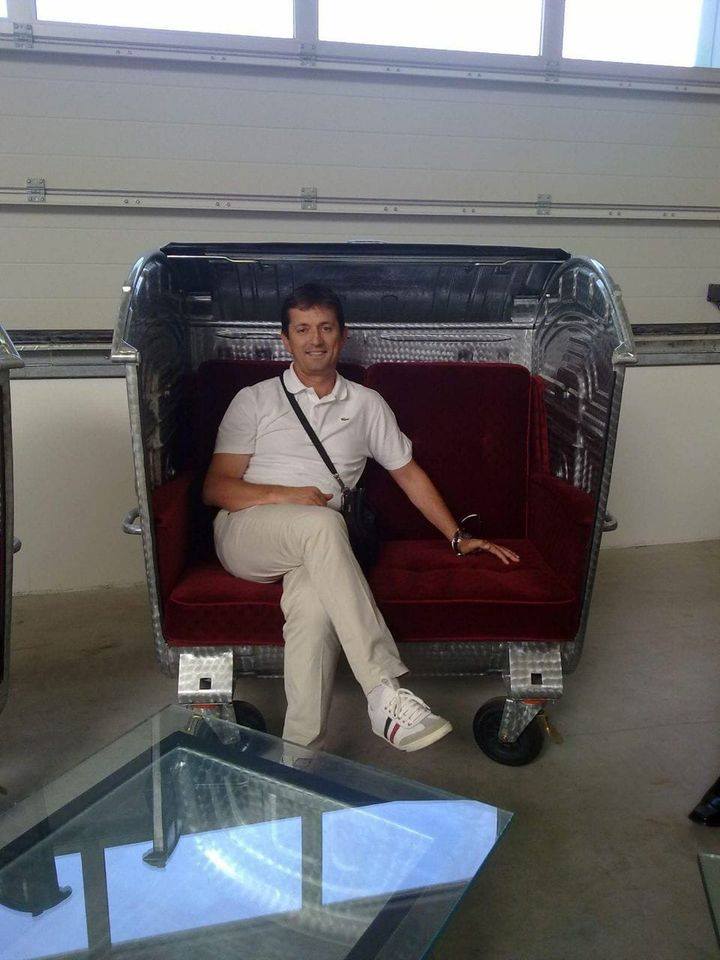 ADHURIM DUKA (DUKA SHPK)
The company founder Veis Duka is known as a person of influence and with strong connections to businessmen in Vlora, mainly from the villages of Mallkeq, Vllahinë, Sevaster, Shushicë, and Nivicë – and even assisted the latter financially to form an association.
---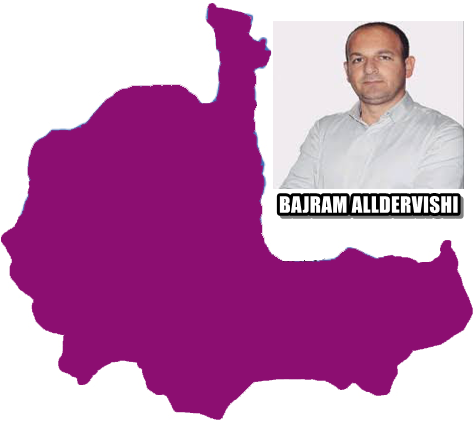 POGRADEC MUNICIPALITY
LUAN KAPRI, BAJRAM ALLDERVISHI (REJ 3) – 530 MILLION ALL (excl. VAT)
80% OF TENDERS OF POGRADEC MUNICIPALITY
Luan Kapri – the uncle's son of the former Elbasan Mayor Eduard Kapri from the right-wing – owns the company REJ 3  with which he won an illegal tender (Cash in hand! No race, negotiation between the procuring institution and the contractor) from the SP rival of his relative – the current SP Pogradec Mayor Ilir Xhakolli.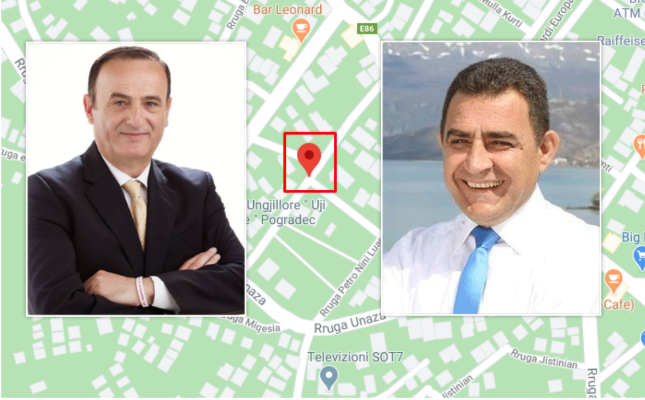 ILIR XHANGOLLI – EDUART KAPRI
Nothing wrong so far, because you might infer the connection DP-SP (okay, let's skip this too) and say 'come on, what's the fuss for a single tender when we are being ripped of billions', but precisely this tender for the city waste cleaning and disposal has the vertiginous figure of HALF A BILLION ALL (excl. VAT).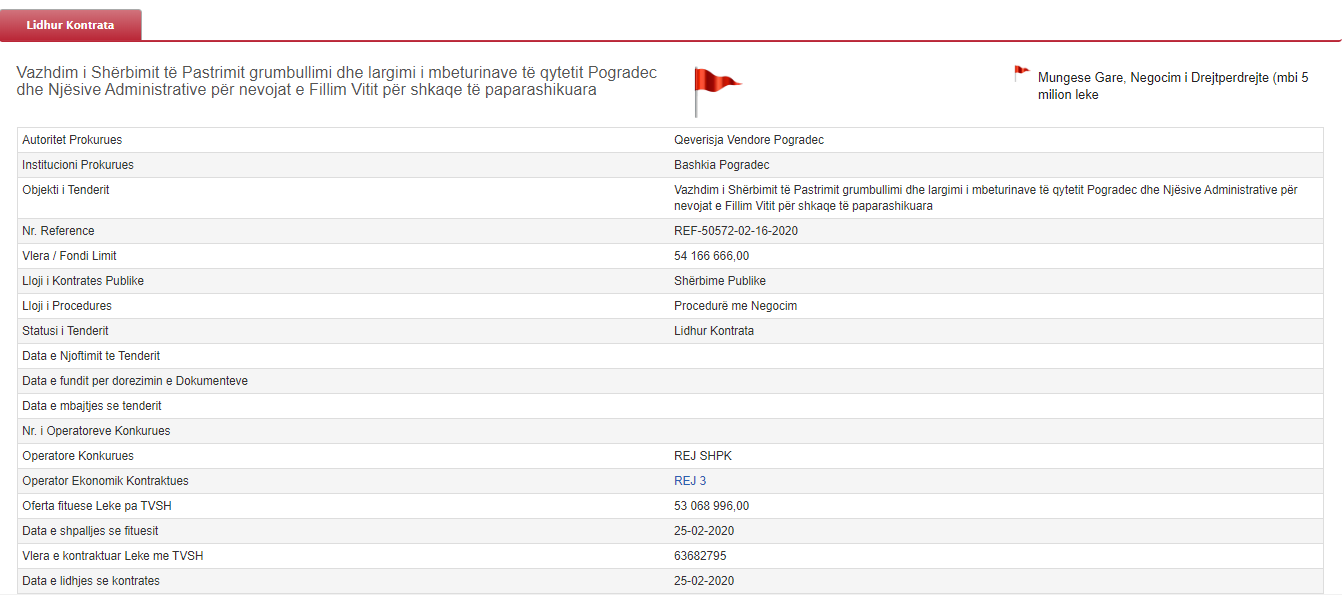 REJ 3 with administrator Bajram Alldervishi is one of the Government's preferred clients. We say this because the figures he received from the Treasury over the years seem to have endless zeros. For 3 years during 2015-2018, Luan Kapri benefited 4.6 BILLION ALL (excl. VAT), and over 3 BILLION ALL (excl. VAT) in only one year (2019-2020).


Luan Kapri and connections to Gëzim of 'Kashta' for the CONCESSION
REJ 3 owns a PPP concession, specifically REJ ENERGY with administrator Gëzim Salillari who undertook the construction of 3 HPPs, Cemerica 1, 2, 3.
"REJ 3" company was established in 1994 by Luan Kapri. In 2011, Kapri sells 20% shares to the company "KLIVA" owned by Gëzim Salillari from Durrës, also known as "Gëzim of Kashta". Salillari got this nickname because once he had a café with the same name at the former Blloku area, that was often frequented by the then-Prime Minister Fatos Nano.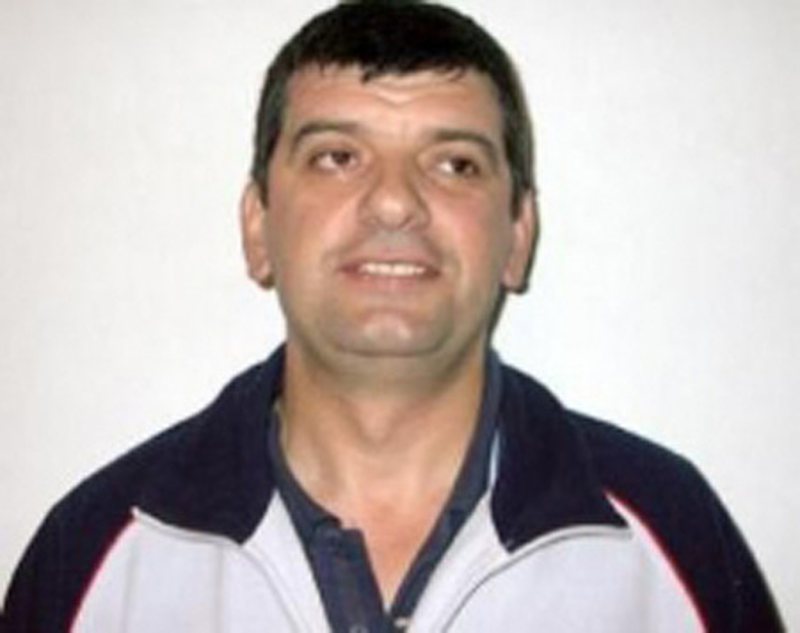 GËZIM SALILLARI (REJ 3) 
Salillari is a prominent name in media coverage in mid-2000, accused of participation in criminal organizations dealing in drug trade from Albania to Italy; initially sentenced to 11 years in prison, he managed to set himself free. At first, Salillari registered "KLIVA" and a few days later purchased 20% of REJ owned by Kapri.
---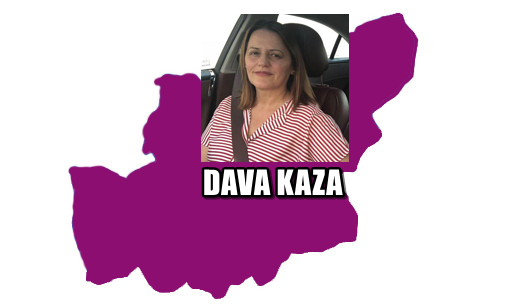 MIRDITA MUNICIPALITY
DAVA KAZA, ZEF KAZA (AEK MUNELLA SHPK) – 387 MILLION ALL (excl. VAT)
97 OF TENDERS OF MIRDITA MUNICIPALITY
Dava Kaza is one of the women entrepreneurs ranked third tender-wining women at the local level. The company owned by her and the husband, "AEK MUNELLA" (Adrian, Enida, Kristian) stemming from the initials of their three children is ranked seventh – one of the companies that benefited the highest tenders by Direct Negotiation. This company obtained almost HALF A MILLION (excl. VAT) from Mirdita Municipality, for 3 tenders, all with violations for lack of race and competition – by direct negotiation.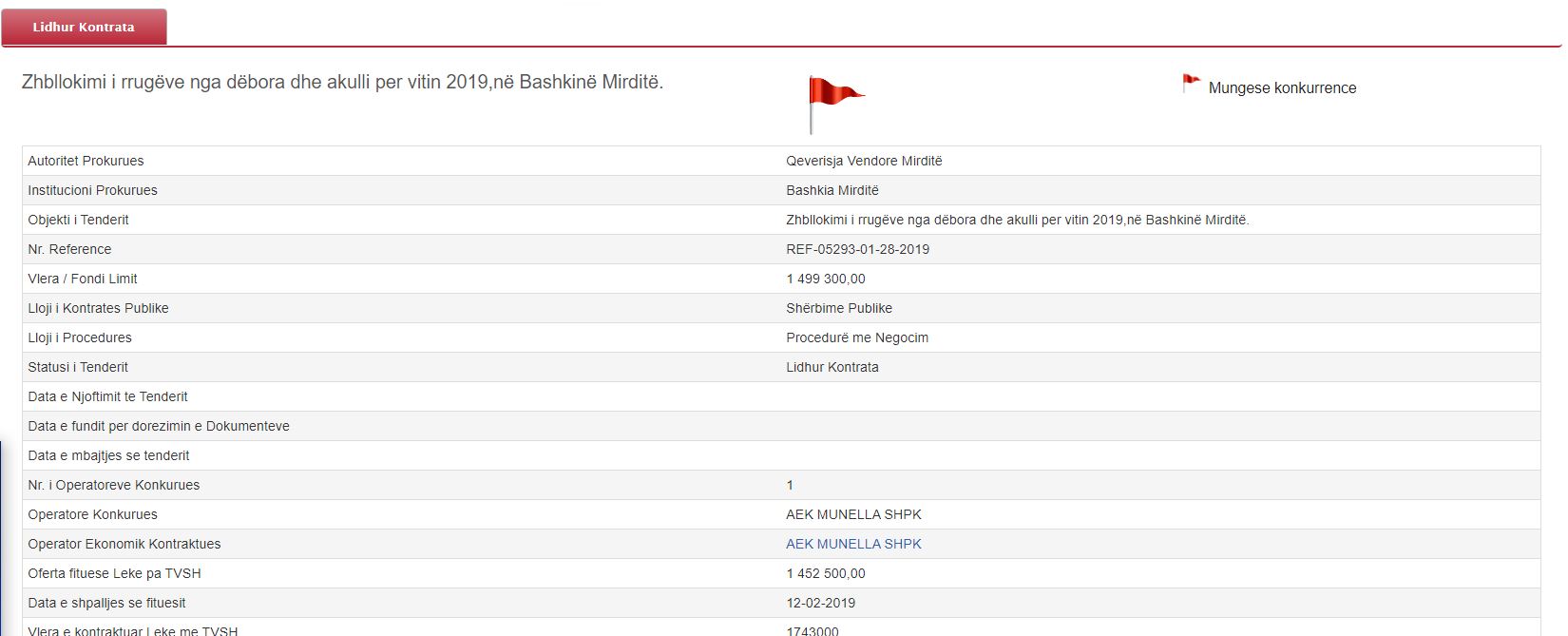 In the period 2016-2018, Kaza couple received around 6 BILLION ALL (excl. VAT) from Budget Institutions, whereas in a single year (2019-2020) they received around 3 BILLION (excl. VAT) in 58 transactions from the Treasury.


All local tenders – mainly in rehabilitation of the water supply and sewerage system – were awarded to this company by Mirdita Municipality, 21 in total with cumulative amount OVER 3.5 BILLION ALL (excl. VAT)!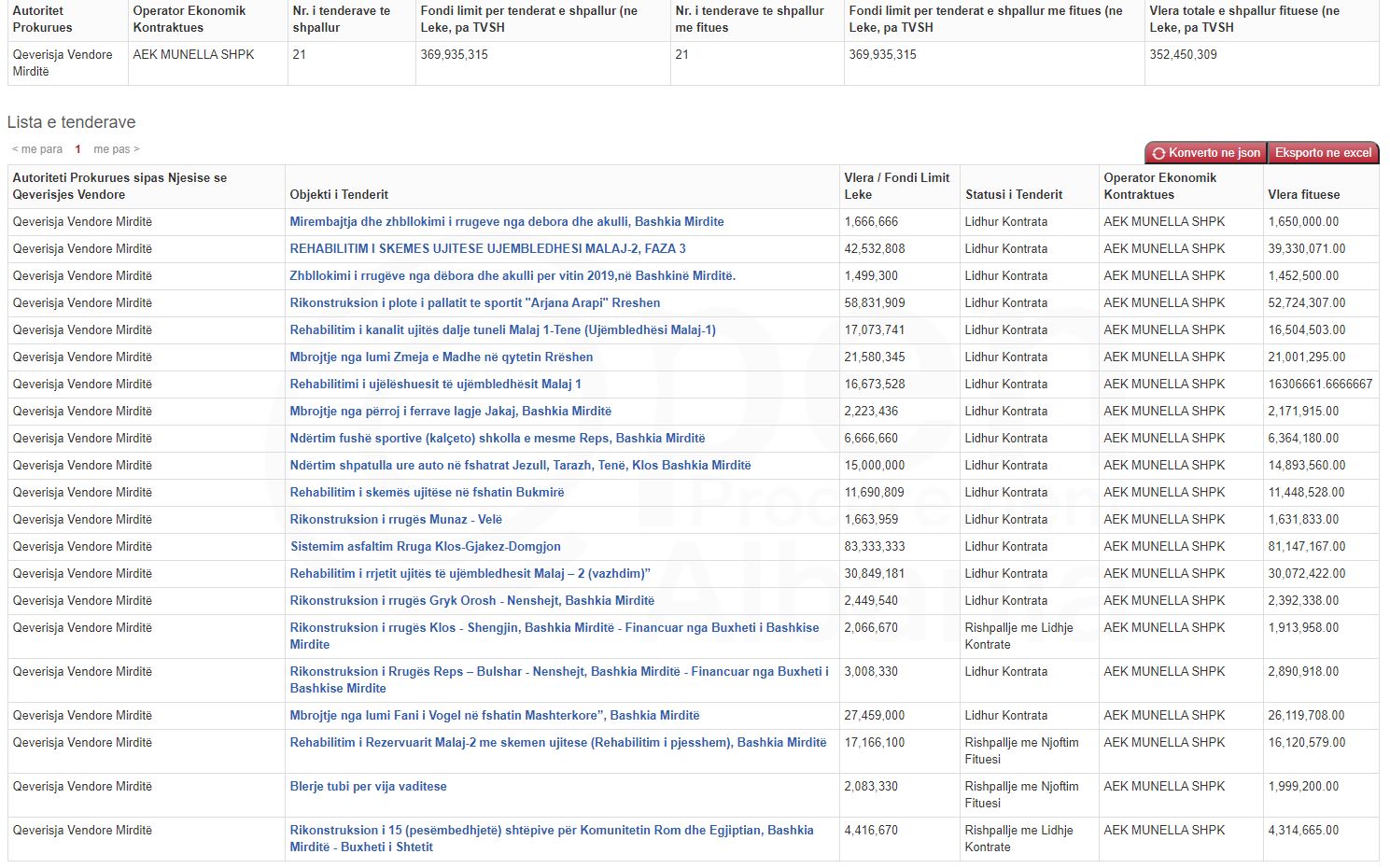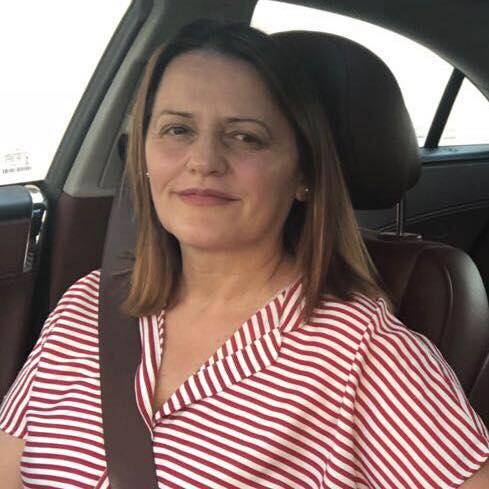 DAVA KAZA (AEK MUNELLA)
The Kazas are among the families strongly tied to the Renaissance (SP), because they often post photos on social media with the SP exponents, such as Kaza junior, Kristian in the company of Erjon Veliaj (Tirana Mayor) and Lindita Nikolla (former Minister of Education).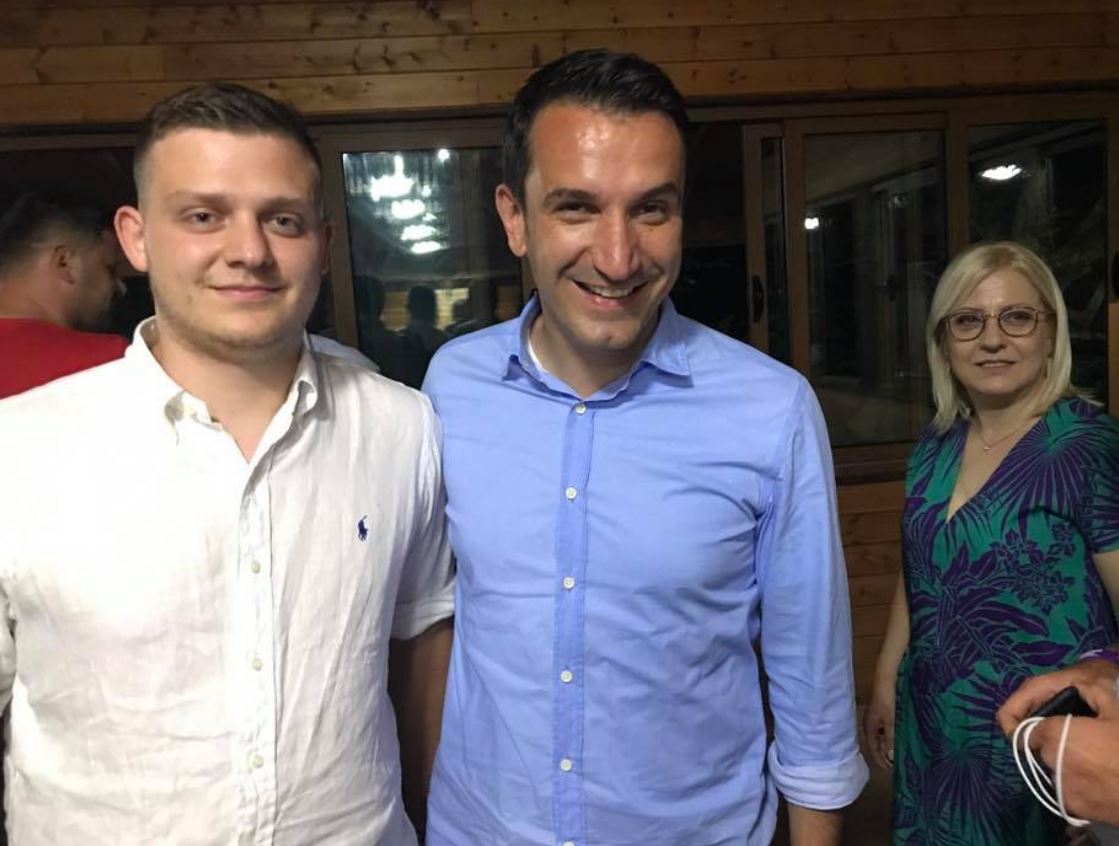 KRISTIAN KAZA | ERION VELIAJ | LINDITA NIKOLLA
This company has been accused by citizens of poor quality works, such as failing to properly maintain the National Road in 2016 due to numerous accidents, while maintenance works were contracted to MUNELLA. Rumors say this company is supported by the Mirdita Mayor, Ndrec Deda, who awarded to MUNELLA any maintenance and cleaning tenders, and not only… This means feeding up yours with BILLIONS! 
---

DURRËS MUNICIPALITY
LEJDI KUÇI, ENOR NAKUÇI, LINA SOKOLI (KREATX) – 234 MILLION ALL (excl. VAT),
84% OF TENDERS OF DURRËS MUNICIPALITY
Maybe you would not believe it, but the company ranked first in Durrës for winning tenders by Direct Negotiation (in cash) for software upgrading and maintenance is KREATX of Enor Nakuçi. KREATX received 3 tenders in OVER 234 MILLION ALL (excl. VAT), all three in violation, classified as RED FLAGS for lack of bids and competition.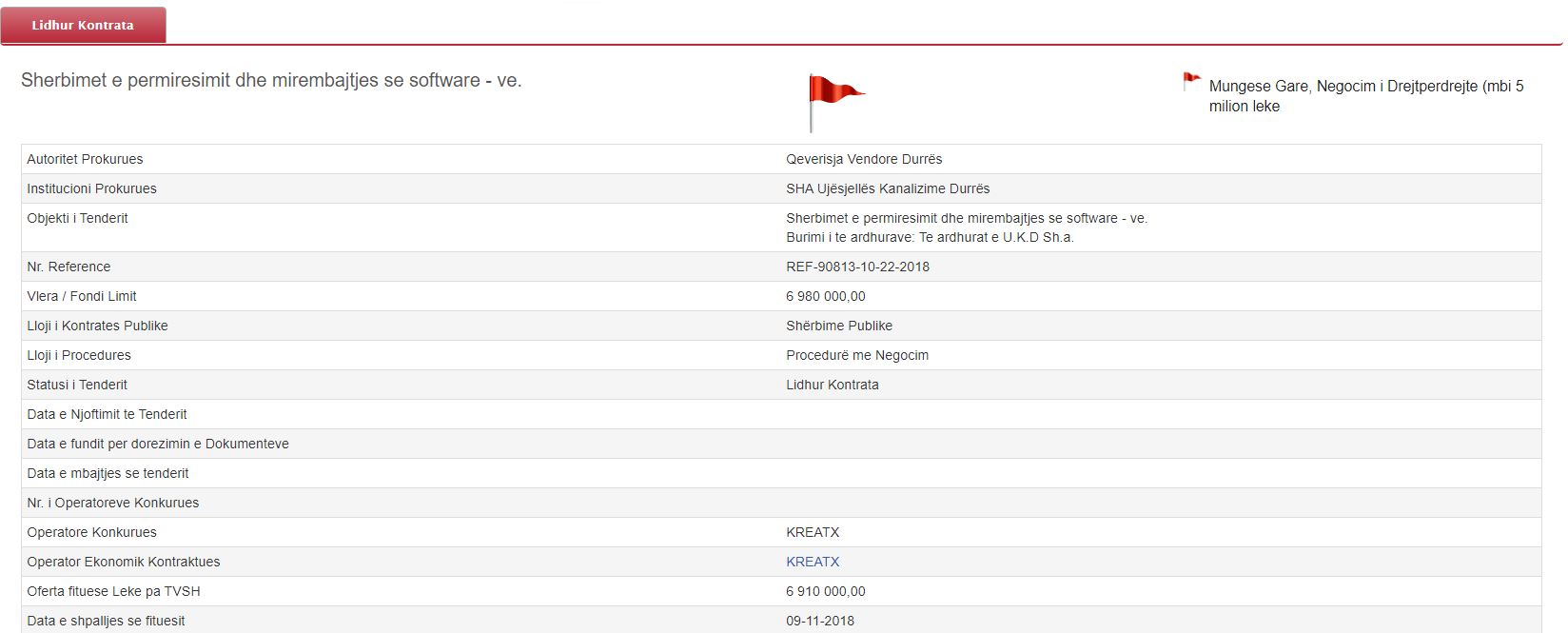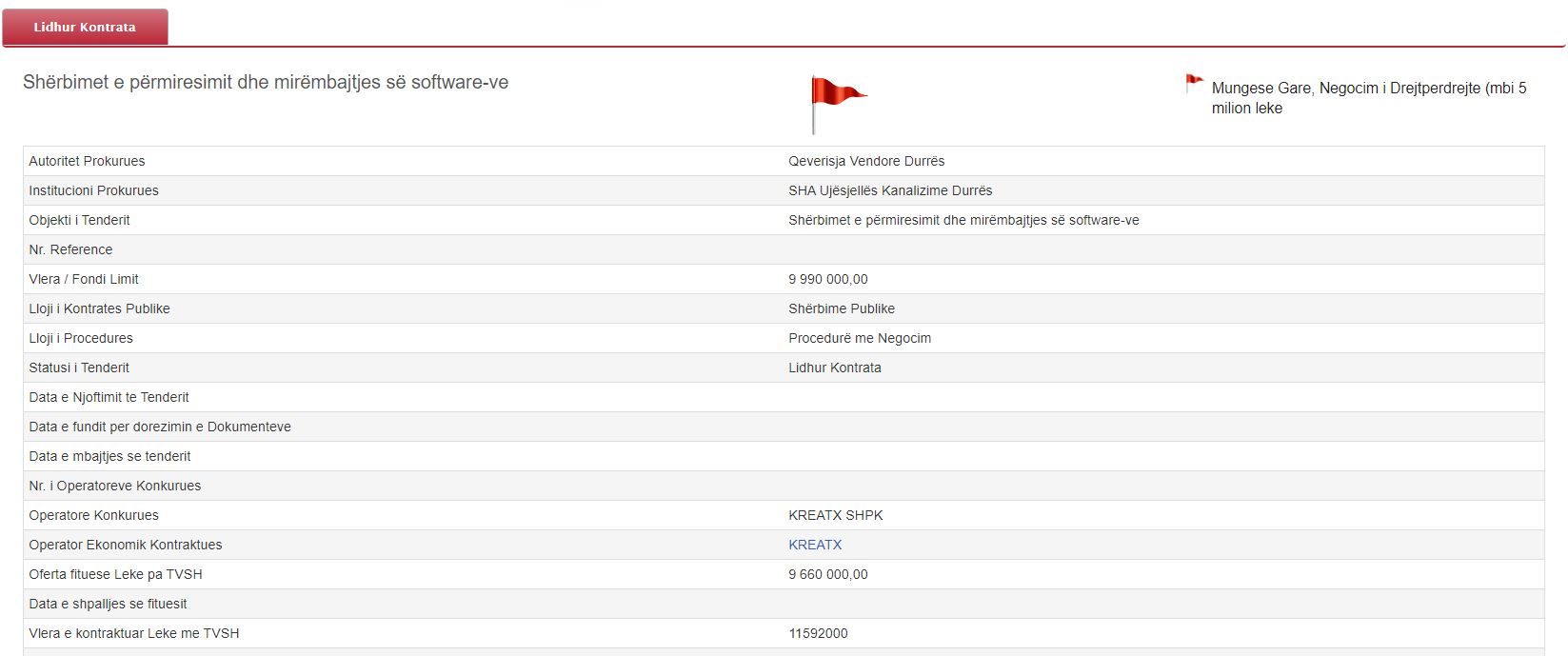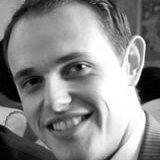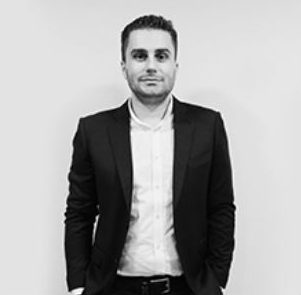 ENOR NAKUÇI | LEJDI KOÇI
This company won tenders also from other municipalities such as Vora, Shkodra, Përmet, and Vlora in similar services – 9 in total for OVER 307 MILLION ALL (excl. VAT), 6 of which with RED FLAGS!

The biggest surprise is the fact that this company got OVER 260 MILLION ALL (excl. VAT) from the Treasury during the 3-year period (2015-2019). But, in 1 year (2109-2020)… this amount was DOUBLED! For 21 transactions with budget institutions, it benefited OVER 531 MILLION ALL (excl. VAT)!!!


---

KAMËZ MUNICIPALITY
SHKËLQIM KUPA, QAMIL KUPA (KUPA SHPK) – 193 MILLION ALL (excl. VAT),
33% OF TENDERS OF KAMËZ MUNICIPALITY
These cleaning companies really know how to run the game! They sweep tender money, the same as they sweep waste from streets. KUPA SHPK is a typical example. It rules in Kamëz for public procurement procedures involving "Cleaning the city". The company established by Qamil Kupa and handed over to his son Shkëlqim has really won the spotlight for multi-million tenders it gets at the stroke of a pen.
For only 3 cleaning tenders from Kamëz Municipality, this company got around 200 MILLION ALL (excl. VAT), with one of them being RED FLAGGED!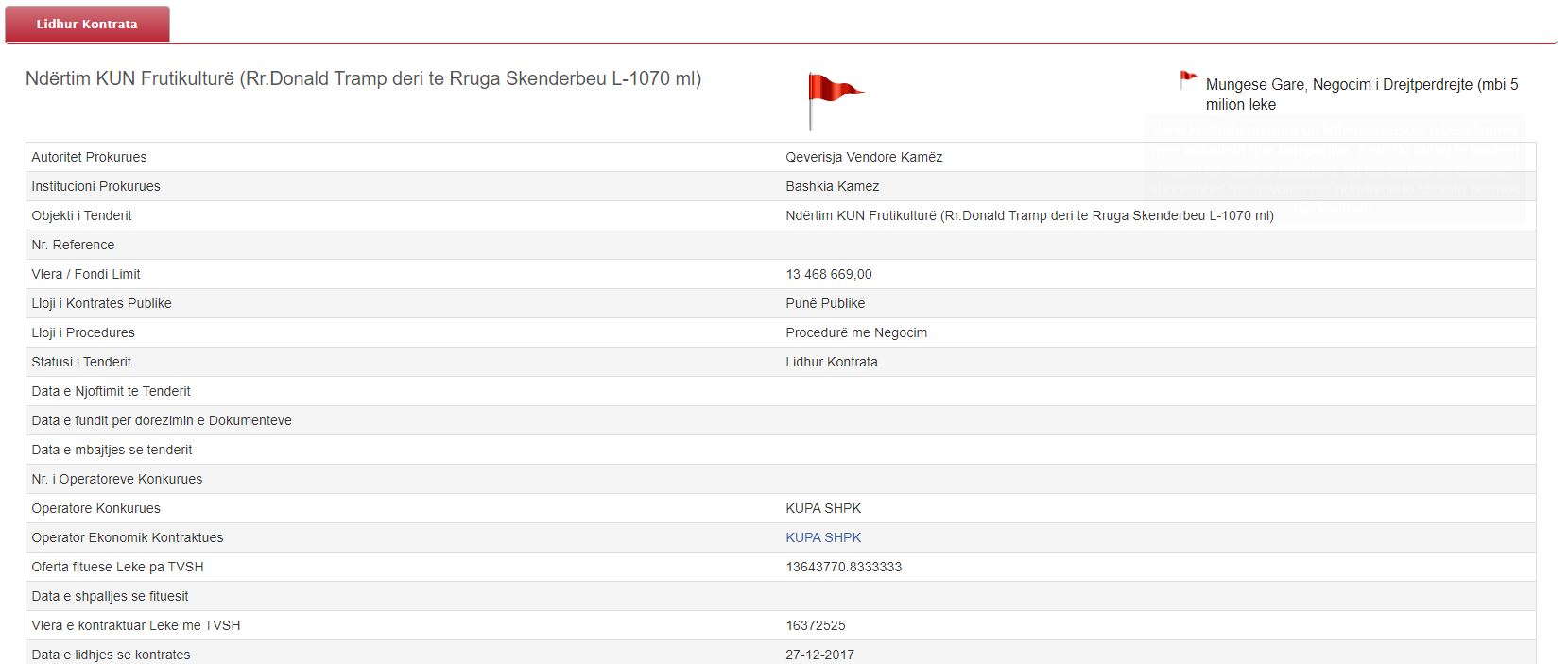 Shkëlqim Kupa, the owner of KUPA SHPK, also owns Elite Real Estate and KORABI shpk (the company called after his young son) with a profit of 98 MILLION ALL (excl. VAT) at the local level. Obviously, KUPA is the preferred company in Kamëz for tenders, because in just 8 months (May-December 2017), this Municipality launched 12 tenders – all won by this company.

KUPA owns three other powerful companies IONIAN REFINING COMPANY, HYDRO SETA, ACCESS ENERGY ALBANIA. Besides, it also has 2 CONCESSIONS, specifically the HPPs in Gjuraj, Kashec, Ragam, and Lëpushë, and the HPP on Seta River.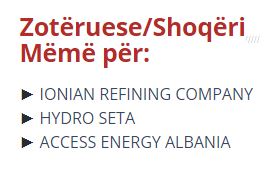 The concessionaire company HYDO SETA is co-owned by KALIA SHPK (well-known in Dibra), a company owned by the relatives of Fatime Kupa, the spouse of Shkëlqim Kupa.
OTHER OLIGARCHS IN MAIN MUNICIPALITIES AND THEIR ILLEGAL TRANSACTIONS SHALL BE DISCLOSED THOROUGHLY IN THE COMING DAYS. JOQ ALBANIA WILL SHED LIGHT ON EACH CENT OF OUR TAXES THAT THE GOVERNMENT IS PUTTING IN THE POCKETS OF THEIR CLIENTS!
Article in the Albanian Language: Here 
https://ais.al/new/wp-content/uploads/hartaaa2-1024x768-1.png
768
1024
admin
http://ais.al/new/wp-content/uploads/aislogo1.png
admin
2020-10-15 11:22:20
2020-10-26 12:07:30
Map of Albania Oligarchs (Names of those who have received MILLIONS OF EUROS from Albanians' taxpayers)